Fall into Ketosis Challenge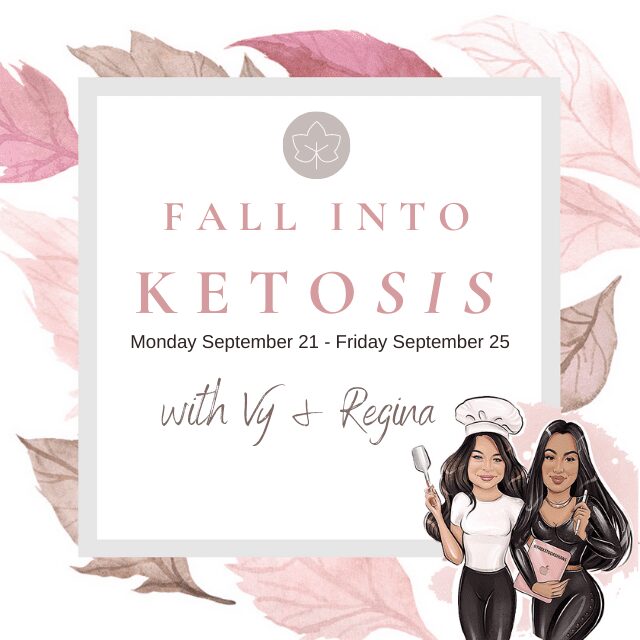 W T F happened to Summer 2020?! With the official start of Fall commencing on Sept 22, we thought it would be fun to jump start the new season with a keto based health and wellness reset week starting on Monday, Sept 21st. This challenge will run from Sept 21- Sept 25th and will focus on total grams of carbs, upping your step game, and being better with your water intake.
The guidelines are simple:
Stick to 20g TOTAL carbs or fewer. That means DO NOT SUBTRACT ANY FIBER to get to 20g of total carbs. This also means you will be depending on very low carb foods to get you through the week instead of many processed foods with added fiber or sugar alcohols. This is a great way to refocus your low carb intake and challenge yourself to eat more unprocessed, whole foods.

Aim for 10K steps a day. Yes, we understand that many of you can barely fit 3K steps into your daily routines between your jobs, families, activities, and general schedule. However, there are many opportunities you can take to fit steps in, like take the stairs at work, taking a walk during your breaks, parking further away from the entrances if businesses, etc. If you want to achieve something, you'll make it work.

Try to be consistent with your hydration patterns by hitting 100oz of water each day of the challenge. Water is so beneficial on ANY diet, but it's super helpful when you're entering a deeper state of ketosis. Your coffee and electrolytes count as water too.
We will support you throughout the week by answering your questions and documenting what we do ourselves to reset for the Fall. Follow us on Instagram to watch for story updates, meal ideas, and live q&a sessions.
Before you start, take pictures, measurements, and weigh yourself. This will show you how small changes can make a difference. Make sure you plan ahead by making sure you have plenty of food and ingredient options that will nourish you this week and keep you satiated. Do not plan to wing it the morning of Day 1.
If you need a little TLC because you are new to keto or have never tracked total carbs, here is a sample meal plan with product links to get you through the week. Please note that these are suggestions and you can customize them to ensure success with your reset. If you need more meal ideas, search the #20gtotalreboot hashtag on Instagram to see past meals we have eaten during this type of reset.
We only share products/services that we love. This post contains affiliate links, which means we may receive a commission for purchases made through our links.
Keto 5 Day Meal Plan
To help get you started, here is a sample ketogenic diet meal plan:
Pro tips:
-skip breakfast if you are not hungry
-season your food with zero carb seasonings
-mix and match meals you like and don't eat meals with foods you do not like
-drink a lot of water throughout the day
Monday
Breakfast: Bacon, 1/2 avocado, and eggs. 9G total carbs OR pumpkin spice bulletproof coffee 0G total carbs
Lunch: Chicken salad with celery sticks 3G total carbs
Dinner: Salmon with 1 cup asparagus cooked in butter. 5G total carbs
Tuesday
Breakfast: Egg, tomato, basil and goat cheese omelet. 3G total carbs
Lunch: Tuna salad with 1 cup cucumber slices. 4G total carbs
Dinner: Meatballs & Marinara with sautéed zucchini. 9G total carbs
Wednesday
Breakfast: Sausage, egg, and cheese sandwich. 1G total carbs
Lunch: BLT lettuce wraps and avocado. 9G total carbs
Dinner: Chicken Noodle-less Soup. 6G total carbs
Thursday
Breakfast: Omelet with avocado, salsa, peppers. 10G total carbs
Lunch: Ground taco meat with butter lettuce wraps and shredded cheese. 3G total carbs.
Dinner: Chicken stuffed with spinach and artichoke dip. 3G total carbs
Friday
Breakfast: Ham and cheese omelet. 2G total carbs
Lunch: Beef stir-fry cooked in avocado oil with broccoli. 6G total carbs
Dinner: Bun-less burger with bacon, egg and cheese. 1G total carbs
Bonus
Saturday
Breakfast: Sugar-free yogurt with peanut butter, cocoa powder and stevia. 5G total carbs
Lunch: Turkey and cheese slices with nuts. 5G total carbs
Dinner: Loaded cauliflower soup. 9G total carbs
Sunday
Breakfast: Fried eggs with bacon. 0G total carbs.
Lunch: Burger with salsa, cheese and guacamole. 5G total carbs
Dinner: Steak and hardboiled eggs with a side salad. 5G total carbs
0G-1G carb snacks:
–seaweed crisps
–pork rinds
–pickles
-pepperoni chips
-olives
-hard boiled eggs
-cheese crisps
-beef sticks
–bone broth
-deviled eggs
–string cheese
0G carb sweets:
-stevia sweetened meringue cookies
-popsicles made with zero carb beverage powders
-sugar free jello
-cinnamon sweetener pork rinds
-stevia sweetened milk tea
-sugar free homemade gummy bears
Have wiggle room?
Choczero – use KETOBAES to save 10% off your order