Super Easy Crepe Cake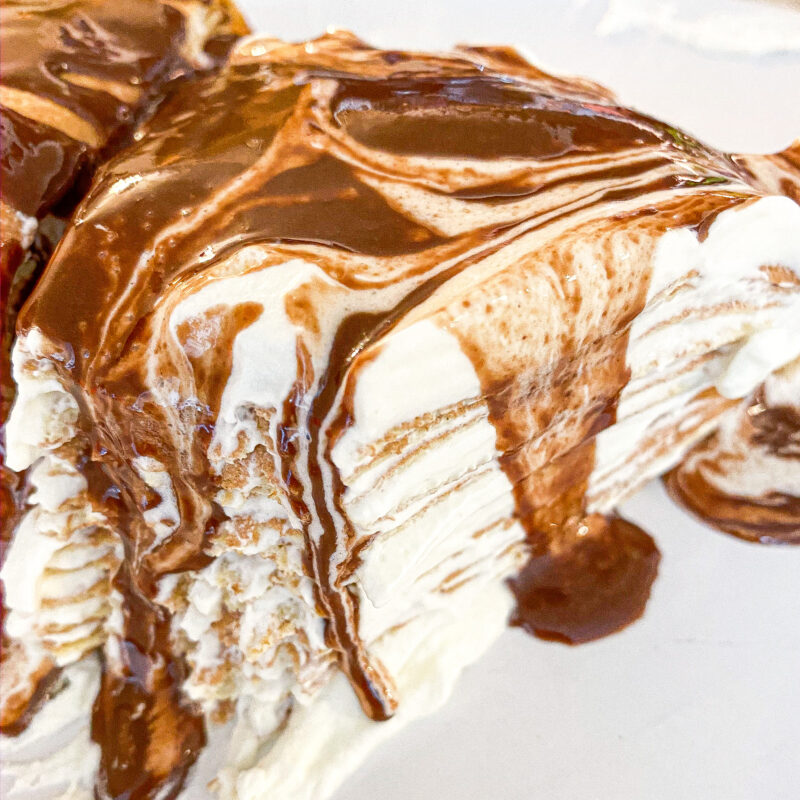 This recipe calls upon the magic of crepini egg wraps – you know, those wraps you see at Costco and Aldi and are unsure how to use them but you buy them anyway. We were craving something sweet so David whipped together this super easy crepe cake that requires very little prep time and ingredients.
Some notes:
We used the large crepini wraps that they sell at Costco – they are like the size of a frozen pizza.
You can absolutely use the smaller, more conventional crepini wraps they typically sell at Aldi.
No, these wraps do not taste eggy or like cauliflower.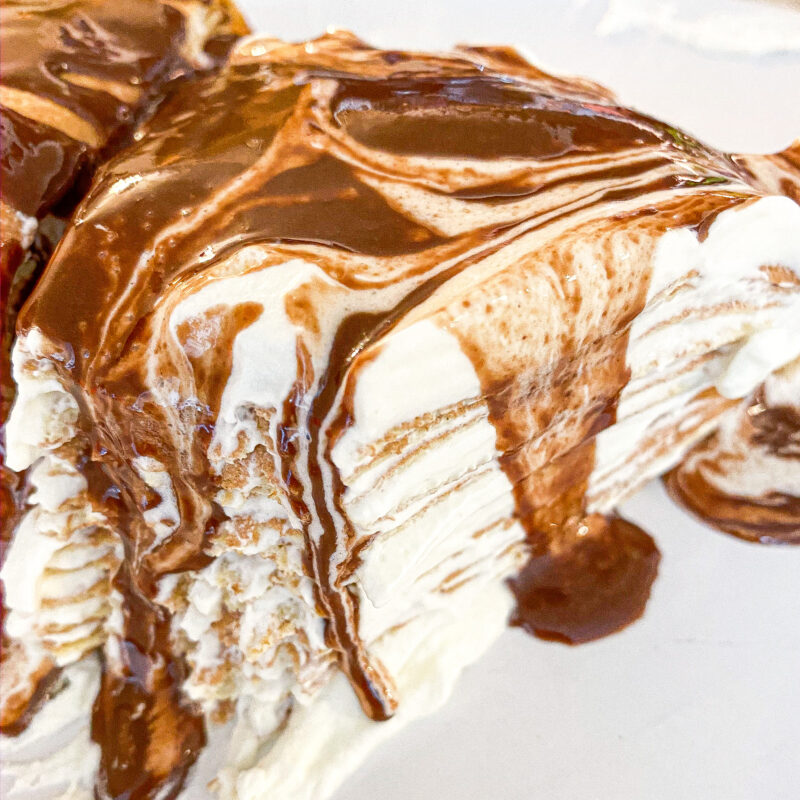 Ingredients
4

large crepini wraps

1/2

cup

heavy whipping cream

1

tablespoon

flavor extract of choice

(we used pineapple but vanilla, almond, or banana would be delicious)

1/2

tsp

Golden Monkfruit sweetener

1/4

cup

sugar free chocolate chips

(Use KETOBAES to save 10% on your purchase)
Instructions
To make the filling, pour heavy whipping cream in a mixing bowl and add the flavor extract and sweetener.

Using a hand mixer, mix the whipping cream for 1 minute. Taste the mixture and adjust sweetener to taste. If you are using a sugar replacement, such as monkfruit classic or swerve, start with 2 tablespoons and adjust from there.

Once you adjust the sweetness, continue mixing the whipped cream until it is thick – about 2 more minutes.

Place one crepini on a flat surface like a cutting board. Spread a layer of whipped cream on the crepini wrap. Add another crepini layer and then spread another layer of whipped cream over the second crepini layer. Add the third crepini and whipped cream layer. Add the fourth crepini BUT NOT another layer of whipped cream – yet.

Cut the crepe cake in half. Spread a layer of whipped cream to cover one of the top of one of the halves. Place the other half of the crepe cake over the half you just added whipped cream to – so you have 8 layers in total. Cut half cake in half one more time. Spread whipped cream over one of the halves. Place the other half of the crepe cake over the half you just added whipped cream to – now you have 16 layers.

Melt the chocolate chips in the microwave until they are a smooth chocolate sauce (20-25 seconds). Pour the chocolate sauce over the crepe cake.

Cut the cake in half for two slices.

Enjoy!
Nutrition
Calories:
155
kcal
|
Carbohydrates:
3
g
|
Protein:
1
g
|
Fat:
14
g
|
Sodium:
11
mg
|
Fiber:
1
g
|
Sugar:
1
g
|
Net Carbs:
2
g
We only share products/services that we love. This post contains affiliate links, which means we may receive a commission for purchases made through our links.
Tried this recipe?
Please leave a review below and tag us @TheKetodashians on IG!