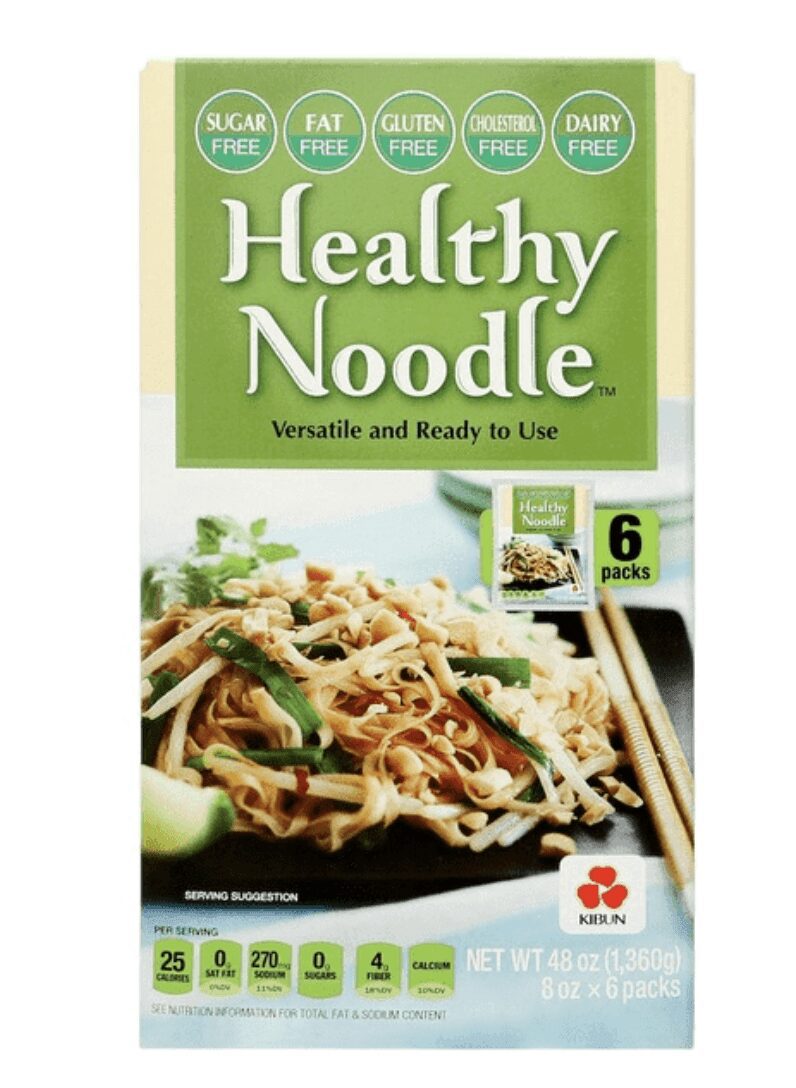 Every time we EVER post anything about the infamous Healthy Noodle from Costco, without fail, we receive hundreds of questions, comments, and general messages in our box related to this product.
Here's the scoop:
What are they? These are gluten free, low carb, fat free, sugar free, cholesterol free and dairy free flat noodles. The brand is called Healthy Noodle, literally. They are 5g total carbs with 4 g fiber, leaving 1g net.
What do they taste like? They are neutral in taste and do not have an odor – unlike shirataki noodles. They are however, in a package stored in a clear liquid to preserve its texture and taste.
Are these like Shirataki? No! They do not have the same smell, taste, or texture. They are stored in a liquid though and are ready to eat hot or cold.
What are they made of? Water, soybean fiber powder, cellulose, sodium alginate, yam konjac powder, calcium chloride, and salt.
What is the texture like? It is similar to a flat rice noodle (pho) – however it doesn't have the same chew (so keep that in mind).
How do you cook it? You don't have to! It's ready to eat so you throw it in whatever dish you want to use it for. We actually DO NOT RECOMMEND cooking it for more than a minute in heat because it will break apart. When we eat the noods, it's almost ALWAYS in soups. We heat up the broth and then throw the noodles in there right before we eat. You can definitely give them a quick rinse before you eat them (we use warm water).
Where can you get these? THE QUESTION OF THE HOUR – these can be purchase at Costco. The costco item number is 1027760 so call your local store and ask an associate if they carry that product number. They are between $13-15 for a case at Costco depending on your region.
If you do not want to call your local store, go to the facebook account where they often post updates on where they sell their Healthy Noodles.
What recipes do you have with these noodles? None! We do not recommend cooking these in heat or they will break apart. Use them like you would noodles and pour a sauce, dressing, or whatever you want on top. They are the best experience that way. People like to eat them with pasta sauce, in soups, salads, all up to you. We would consider this a dupe for flat rice noodles so take that information and get creative!
What's a good hack? Rinse these out, store them in a zip lock back, and bring them to your favorite Pho or Hot Pot restaurant!
If you're looking for inspo, here are some delicious ones: